Browsing articles in "TRAINING"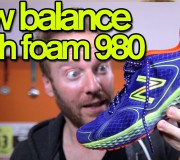 I finally got my feet into a pair of New Balance's new maximalist shoe, the New Balance Fresh Foam 980. Now I've known about this shoe for the last year and knew I'd want to try it as soon as it was dropped. I had high expectations, thanks in part to New Balance's excellent marketing campaign, but was sadly disappointed in the final product. The midsole material in this shoe is it's biggest selling […]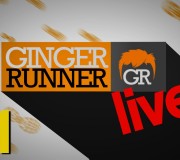 On this episode of Ginger Runner LIVE, we are joined by the wonderful Alicia Shay: Nutritionist, Nike Trail Elite Team Member, incredible athlete, coach, and much more! I ask her a number of questions ranging from proper daily diet for endurance athletes to proper race day nutrition tips. Alicia has a wealth of knowledge and drops some of it on our show. FOLLOW ALICIA: http://twitter.com/AliciaKShay http://runsmartproject.com/coaching/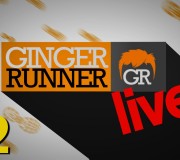 Ethan Newberry is joined by Chris Vargo, Billy Yang and Sally McRae to talk about Chris' win at Way Too Cool 50k, we talk race strategy, and Billy & Ethan talk about the LA Marathon – the hottest in the last decade!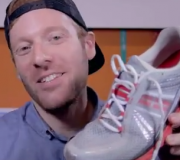 Ladies and gentlemen, I finally get to review the new Brooks PureConnect 3! (RunningShoes.com) I reviewed the original Brooks PureConnect and while I liked it for the most part, I had some issues with it after awhile. A lot of that original shoe carried on into round two, where not much was changed with the PureConnect 2. However, Brooks has incorporated a number of new changes in their third iteration and I have to say […]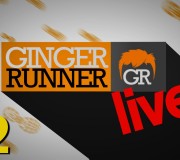 Tonight Chris Vargo and I are joined by the talented Sally McRae (Nike Elite) to talk about her recent SoB50/50 second place finish as well as drop some serious knowledge on those who are training for their first half marathon, full marathon or first ultramarathon. This is a must-see episode! We also debut the new Just The Tip segment with Vargo and premiere the Runner's Rant segment. I get to do a Quicky Question Quiz […]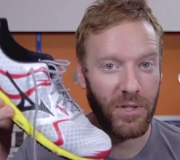 Ladies and gentlemen, the Mizuno Wave Hitogami (RunningShoes.com). It has been a number of years since I ran in a Mizuno shoe. I had real problems with the wave technology – the plastic layer in the heel – and couldn't get past it when I would wear the shoe. However, many of you have asked me to review them so I thought, why the hell not, let's try them again! And boy, I'm glad I […]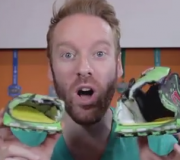 I love me some Newtons. I owe a lot of who I am as a runner now to getting into Newtons and dialing in my forefoot/midfoot strike. Now that I've been running a lot of trails and partaking in trail Ultramarathons, I was stoked to hear that Newton had been working on a new trail shoe called the BoCo AT (Boulder Colorado All Terrain?). Now that I've put some miles in the shoe, I'm pretty […]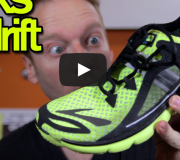 So the Brooks PureDrift (http://runningshoes.com/mens-brooks-puredrift/nightlife-black-euro-blue-silver) has been out for some time now, but I've wanted to get my feet into it since it's release. FINALLY, I have the chance to review them and while they're a fun, fast shoe that really caters to light, efficient and fast runners, they have some issues that bug me. While the upper is soft, light and comfortable, it bunches in the toe box. While the toe box is wide […]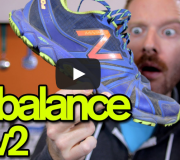 It's been awhile, but I finally put my feet back into some New Balance goodness. The best part about the 1010v2 (http://runningshoes.com/mens-new-balance-1010-v2/blue-yellow) is that I LOVE THEM! Seriously, they have everything I want and need in a trail shoe and hit the mark on all accounts. They are light, flexibile, have an amazing toe box, a comfortable upper, some protection underneath, and just feel nimble and awesome. The only negatives are that they could potentially […]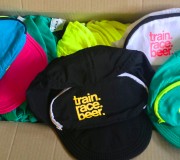 You have been so patient, my friends. After months of teasing, they are FINALLY HERE! I am offering 4 types of CapSacs for you to enjoy. There are 2 Limited Edition colors (Black and Teal) and 2 WICKED Limited Edition colors (White & CMYK - Sold Out). This is the first time I've used ebay for something like this, so please bare with me as I figure out shipping (which I imagine will be a cluster […]
Tweets by @TheGingerRunner
CURRENT PRs
10k (TRAIL): 00:58:10
11k (TRAIL): 01:08:51
15k (TRAIL): 01:24:01
21k (TRAIL): 02:29:27
HALF MARATHON: 1:45:56
FULL MARATHON: 3:43:58
50k (TRAIL): 05:47:54
50m (TRAIL): 10:42:56
100k (TRAIL): 14:21:00