Browsing articles in "TRAINING"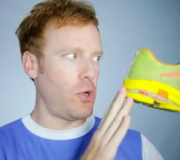 I finally get a chance to review my Newton Distance Lightweight Trainers. This is my go-to trainer and the shoe I've run in the most. In fact, I just ran the San Francisco Marathon in this shoe. It's fantastic for forefoot runners, or those who are further along in the process of natural running. If you're looking to START forefoot running, I would recommend looking at the Gravitas or Sir Isaac from Newton before this [...]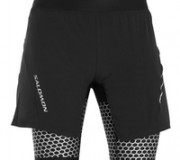 Wow, I never thought I'd say this, but I may want to marry a pair of shorts. The two of us had a scrumptious, albeit brief (haha, get it!?), love affair over the last 2 months and I think their the one. I'm in love. With a pair of shorts. Now I can't just say this without telling you why, now can I? Here's my ye' olde review of the Salomon EXO II Wings TW shorts. SALOMON [...]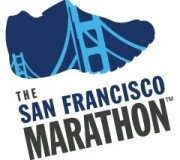 Things I now know because of the San Francisco Marathon: I know nearly every square inch of San Francisco. I know what it feels like to cross the Golden Gate Bridge. Twice. On foot. I know what it feels like to finish a race without wanting to die as soon as I cross the finish line. Finally, I know what it feels like to have a favorite marathon. When I started running again as an adult [...]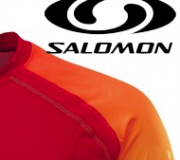 Without giving too much of this review away in the first sentence, Salomon freakin' NAILS trail running apparel. Ok, now that I've blown my wad and spoiled everything, I'll get more specific. Being known for their affection for hardcore trail runners and outfitting some of the best ultramarathoners in the world, Salomon has a reputation that precedes it. Because of this, I've wanted to get into some Salomon gear so I could try it out and see if [...]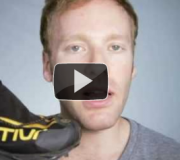 Here is the GingerRunner.com review of the La Sportiva Crosslite 2.0. After wearing them for a considerable number of trail runs on all sorts of surfaces, I stand by these shoes as a great addition to the trail runner line-up. They are light, sturdy, rugged as hell, and simple. While there are a few problems (laces, stiffness, height) they are outweighed by the shoe's ability to adapt to different trail running conditions. From the hard [...]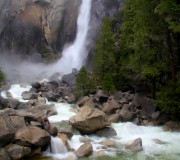 So this last week Mile Long Legs and myself decided to go for a kick-ass camping excursion northbound to Yosemite National Park. We'd both been once before and fell in love with the place, what with its towering granite cliffs, exotic waterfalls and challenging hikes. We thought that heading to the park earlier in the season would bring us even MORE beauty then we'd experienced before. Well, we were in for serious curve balls. We [...]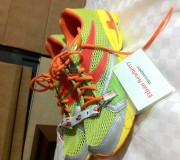 I'm in New York for the YouTube NextUp program! Google and YouTube chose 25 up and coming partners to invest in by providing us with $35,000 and the opportunity to meet and learn from some of the top new media and online content creation specialists. It's been freakin' AMAZING. We've had workshops, speakers, video collaborations, and special events this entire week. But MAN. All I want to do is get in a decent run. I [...]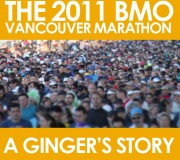 If anyone says marathons are easy, they deserve a punch in the balls (or groinal region). They're not. No matter how you spin it. Despite having trained long and hard for this, my third full marathon, it was by no means a walk (or run) in the park for me. In fact, it may have been my most difficult race yet both physically and mentally. TRAINING FOR THE RACE I started training for this race [...]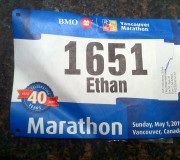 Twas the night before a marathon, and all through the house; Not a carb left uneaten, not even the giant pile of spaghetti, stacks of toast, or bagels with peanut butter. It's true. It's now the night before the Vancouver Marathon and it's time for our last pre-race "meal" (read: not a banana). As the marathon nerves creep in (don't worry, still converting them to fuel!) I can't help but reflect on the road that gets a [...]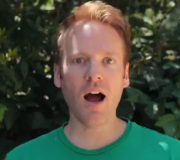 I'm running the BMO Vancouver Marathon Sunday morning and couldn't be more excited/nervous! I also talk about my pre-race tradition. What are some of YOURS? SUBSCRIBE to Ginger Runner's YouTube channel! Train Hard. Race Harder. Party Hardest.
Tweets by @TheGingerRunner
CURRENT RECORDS
10k (TRAIL): 00:58:10
11k (TRAIL): 01:08:51
15k (TRAIL): 01:24:01
21k (TRAIL): 02:29:27
HALF MARATHON: 1:47:42
FULL MARATHON: 3:43:58
50k (TRAIL): 05:47:54