Browsing articles tagged with " fast"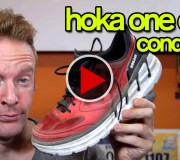 I'll be honest, I'm a fan of Hokas. After all these miles, I have found that I thoroughly enjoy the move into maximalist shoes – shoes that provide an extra amount of midsole cushioning. While I spend a lot of my time running in more minimal, lower drop shoes for all sorts of runs (technical trail & roads), I think rotating into a soft maximal shoe from time to time can benefit you in multiple […]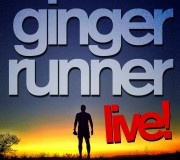 On today's episode we are joined by the one and only, Jimmy Dean Freeman. Not only is he a SoCal legend – creator of the SoCal Coyotes, ultramarathon runner extraordinair, and local coach – but he's also undertaking something very few humans have even attempted. He calls it the Original Six Hundo Challenge. Running 6 100 mile races over the course of a few weeks. In a row. In one season. INSANE. We're talking Old […]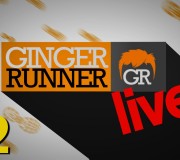 We get to pick the brains of 2 of Southern California's most successful race directors, Keira Henninger & Molly Kassouf. Keira just wrapped up the Leona Divide races and Molly is prepping for her big Whoo's In El Moro 50k/25k races. Get all your questions answered first hand by the race directors themselves! Keira's Links: http://keirahenninger.com/ http://twitter.com/keirahenninger Molly's Links: http://whoosinelmoro.com/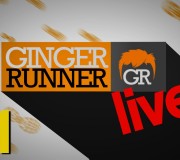 Our very first episode! I love working through technical glitches! I am also joined by the amazing Chris Vargo!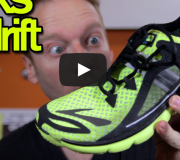 So the Brooks PureDrift (http://runningshoes.com/mens-brooks-puredrift/nightlife-black-euro-blue-silver) has been out for some time now, but I've wanted to get my feet into it since it's release. FINALLY, I have the chance to review them and while they're a fun, fast shoe that really caters to light, efficient and fast runners, they have some issues that bug me. While the upper is soft, light and comfortable, it bunches in the toe box. While the toe box is wide […]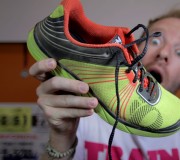 Ok, so here's the deal. Pearl Izumi has given me the opportunity to giveaway a bunch of their awesome gear, including a pair of their kick-ass shoes. I will not only pick a grand prize winner that will receive the shoes, but also THREE runner-ups that will also receive Pearl Izumi awesomeness! One will receive running shorts, one will receive sun sleeves, and one will receive a cool Pearl Izumi e-motion t-shirt! How's THAT for […]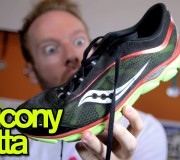 If you've followed me for awhile, you know how much I love the Saucony Kinvara 3. This shoe is Saucony's response to a more minimal, zero-drop, cushioned version of the Kinvara. The question is whether it lives up to the hype. Well, all-in-all, the shoe is pretty dynamite, but not without it's faults – and the faults are make or break for me. While it is an extremely light, zero-drop shoe with an amazingly comfortable […]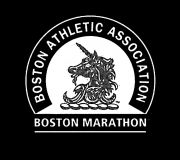 So it's been 1 week since the tragic events that took place at the finish line of one of the most prestigious marathons on the globe. While we've had some resolution, I still find it all difficult to swallow and seek appropriate answers. My heart and thoughts continue to go out to all those affected by this senseless act. I also acknowledge just how awesome the running community has been in the wake of this tragedy, coming […]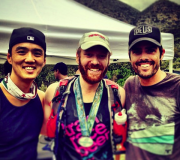 How can one complain about a run when they were surrounded by a breathtaking ocean sunrise, rolling hills straight out of Jurassic Park, and brutal ascents followed by rollercoaster downhill singletrack. The Ray Miller 50/50 was a week ago, but the race was so beautiful, it's been stamped in my brain (and my aching muscles) like it was this morning. This was my second ultra (The North Face EC 50k was my first) and despite […]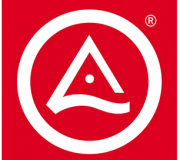 It's the new year, January is almost over, and I think I owe you all a lil something for being so damn awesome and inspiring me everyday. Rather than hugging you and touching you each individually in the creepiest way possible, I've decided to host a fun lil giveaway starting THIS WEDNESDAY, January 23rd at 9am and ending at midnight (pst) the same day. And this one should be fun!! I got word that Injinji, […]
Tweets by @TheGingerRunner
CURRENT PRs
10k (TRAIL): 00:58:10
11k (TRAIL): 01:08:51
15k (TRAIL): 01:24:01
21k (TRAIL): 02:29:27
HALF MARATHON: 1:45:56
FULL MARATHON: 3:43:58
50k (TRAIL): 05:47:54
50m (TRAIL): 10:42:56
100k (TRAIL): 14:21:00