Browsing articles tagged with " shoes"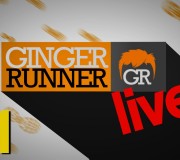 On today's Ginger Runner LIVE we are talking about the 2014 Boston Marathon, Meb's BIG win, Jeptoo's huge victory, Shalane's personal & American PR, and more! So much to talk about so grab a beer and let's have some fun! #BostonStrong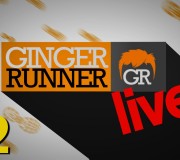 Tonight, we talk about race recovery and some of the best methods for helping you body bounce back after a brutal beating. Chris Vargo offers an elite perspective, Mile Long Legs joins us to offer a female perspective and we have a top 5 steps to recovery. Enjoy the episode, and we'll see you LIVE next week!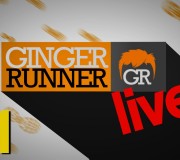 Our very first episode! I love working through technical glitches! I am also joined by the amazing Chris Vargo!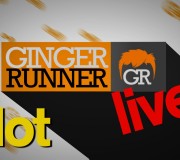 For the last year, I have been toying with the idea to do a live webcast where I get to interact with my viewers, answer questions, bring on guests, and talk all things endurance. It finally clicked that the only way I would move forward with the concept was to just do it. This is the pilot episode of my new endeavor, Ginger Runner LIVE. There are technical issues galore, but the content is exactly […]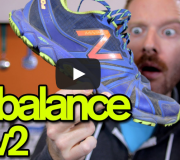 It's been awhile, but I finally put my feet back into some New Balance goodness. The best part about the 1010v2 (http://runningshoes.com/mens-new-balance-1010-v2/blue-yellow) is that I LOVE THEM! Seriously, they have everything I want and need in a trail shoe and hit the mark on all accounts. They are light, flexibile, have an amazing toe box, a comfortable upper, some protection underneath, and just feel nimble and awesome. The only negatives are that they could potentially […]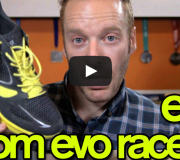 So, Ecco recently contact me and asked if I'd like to review a pair of their BIOM Evo Racer Lite. Never one to turn down the opportunity to review a new pair of kicks, I obliged, not fully sure of what I would get. I am happy to report that I have enjoyed my time in the Evo Racers more than I expected I would. They are a fast, responsive 5mm drop shoe utilizing a […]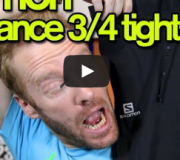 I am a confident, heterosexual man who fully embraces the idea of wearing running tights. To even further the anty, let's crop those tights about a 1/4 of the way up the legs. Boom. MANPRIS. And yes, I rock them and I love them. These MANPRIS (I love all-caps) are the best I've worn yet. They're light, breathable but still manage to provide enough coverage and warmth during colder runs. Really the main thing you […]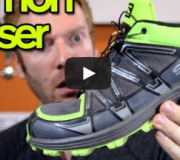 The last shoe review I dropped was the Newton Energy NR, one of my favorite road shoes of 2013. I thought I'd drop a trail shoe this round. Not just any trail shoe, but the BEAST that is the Salomon Fellraiser! This thing was built for rough conditions and muddy trails. The extremely aggressive outsole, the beefy upper and all the elements that make this shoe a tank combine to provide a protected, secure ride […]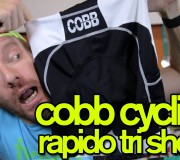 I recently got the chance to review two totally different style of shorts – one for recovery, one for triathlons. Seeing as it's now towards the end of summer, I thought I'd push them together into one blog post in order to consolidate the need for the search bar for those of you looking for late summer purchases. Check out the videos below and let me know if you have used either pair of gear! […]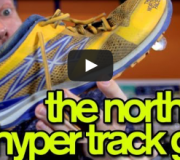 This is my first opportunity to review any shoe from The North Face. The Hyper Track Guide is a solid performer from the company and is there first attempt at a "reduced" trail running shoe. I will say that the shoe has it's strong points – soft EVA, seamless upper, and flexibility – but suffers from some crucial flaws – minimal underfoot protection, sizing, long-term comfort. It's my understanding that The North Face is working with […]
Tweets by @TheGingerRunner
CURRENT PRs
10k (TRAIL): 00:58:10
11k (TRAIL): 01:08:51
15k (TRAIL): 01:24:01
21k (TRAIL): 02:29:27
HALF MARATHON: 1:45:56
FULL MARATHON: 3:43:58
50k (TRAIL): 05:47:54
50m (TRAIL): 10:42:56
100k (TRAIL): 14:21:00